Mission Statement

To provide the best of assessing services to the motor industry in a compassionate and timely manner, delivered through seamless process, designed to exceed expectation.
I have been involved in the motoring industry for 23 years, the last 9 years as an Insurance Assessor for large General Insurers, small Niche Insurers, and more recently with an Independent Assessing Firm. The latter in my opinion enhances my résumé by having acquired the intermediary experience required by insurers, fleet managers and their customers.
I began my life in motoring in 1987, then gained a certificate as a trade qualified Engineering Tradesperson, and furthered my experienced in large smash, prestige automotive and motorcycle repair. My experience in Motor Assessing is varied and comprehensive; it includes privately owned vehicles, servicing prestige accounts including Mercedes and BMW, one-off enthusiast vehicles, solid motorcycle knowledge, Fleet, Caravan, and Heavy Motor.
Assured Motor Assessing was born in light of my observations within the Insurance Industry, where I determined there was a need for a local approach that fills a service void left by large independent assessing companies.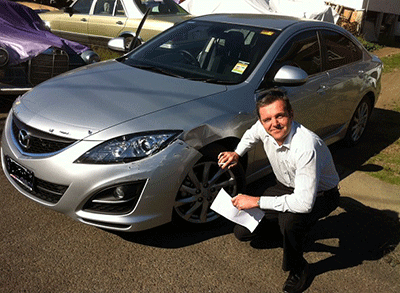 our promise

At Assured Motor Assessing we offer a premium service to insurers, the self-insured and fleet operators that will exceed the expectation of your customers and personnel, and in turn, exceed your own high expectations. This will be achieved by closely monitoring the amount of work we are willing to accept, and making good use of technology to ensure the desired outcome.

As a new determined local provider, Assured Motor Assessing will deliver you a service focused, streamlined process. We encourage you to utilise us initially where current service arrangements are not being met, where you have no cost management arrangements in place or for the purpose of comparison with your existing provider. We are confident that a decision to employ Assured Motor Assessing as your preferred option, your assessing requirements will be fulfilled in a prompt, professional manner.

Assured Motor Assessing will concentrate its resources primarily on servicing your light motor and motorcycles in order to get them back on the road as soon as possible. For local assessments we have both onsite and digital capability, and are therefore also able to service your interstate requirements via images.

It is our intention to have all assessment requests inspected the next day, providing this accommodates your clients' schedule. Assured Motor Assessing also offers as a point of difference, an assurance that should an assessment have become especially urgent, a phone call can be made, and if received before 1.00 pm, every attempt will be made to have it addressed the same day.

It is our hope that you consider Assured Motor Assessing when making your decisions regarding any future assessing requirements in the Brisbane Metro and outer regions.